Commercial Kitchen Cleaning Services Greensboro
Kitchen cleaning North Carolina – Raleigh, Greensboro, Charlotte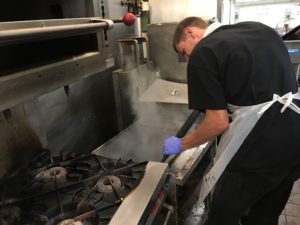 Call Local technician for a Quote, Cell: (919) 307-6611
Commercial facilities which serve food to the public such as school,
churches, restaurants, fast food places, hospital food courts are advised
to have deep commercial kitchen cleaning yearly.
Steam cleaning is an eco-friendly solution for commercial kitchens.
Heavy duty kitchen equipment's operate none stop at busy food-service establishments.
The kitchen staff is daily facing the challenge of cleaning spills.
However, the commercial kitchens still generate a high volume of grease which is
difficult to remove and special tools are required for cleaning.
Call Local technician for a Quote, Cell: (919) 307-6611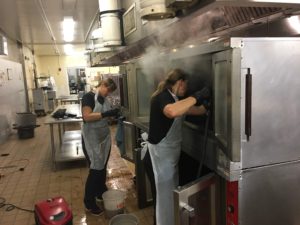 Deep commercial kitchen cleaning services with Steam is a great way
to remove grease and sanitize ovens, grills, countertops or any surface of the kitchen.
Our team is trained to work with commercial kitchen equipment. Our commercial kitchen
cleaning services adhere to all high standards set by the Food Safety inspectors.
We offer flexible cleaning schedule, daytime or night to get the job done
without closing your kitchen during the normal operating hours.
Call Local technician for a Quote, Cell: (919) 307-6611
Kitchen cleaning North Carolina – Raleigh, Greensboro, Charlotte
CE Commercial Kitchen Deep Cleaning North Carolina provides deep steam cleaning solutions to Raleigh, Greensboro, North Carolina, and surrounding areas. We serve both, residential and commercial clients interested in deep steam cleaning and pressure washing.
Differentiating from our competitors in the area, we raise the standard of professional kitchen cleaning as we are the only company using the latest sanitation equipment.
CE Kitchen Cleaning North Carolina
Operated by Calamus Enterprises Llc
Manager: Margus Luik
(919) 307-6611
[email protected]
DUNS: 069423871
CAGE Code: 7RQE9
3 Reasons Restaurants Should Deep Clean Their Kitchens (article on Yahoo! Finance – featured article about CE Kitchen Cleaning NC)
We are U.S. government and DoD official contractor.