The CE Deep Cleaning Service North Carolina for toilets will protect your staff against any possible build up of bacteria in your toilet areas, the Deep Clean will comprise of:-
*De-Scale of all fixtures Sinks, Toilets & Urinals
*Steam Cleaning of all Toilet Fixtures and Areas
Call Local technician for a Quote, Cell: (919) 307-6611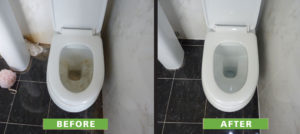 Restrooms and bathrooms can pick up grime and bacteria faster than expected, affecting the hygiene of your staff and quality of customer service.
Using the most effective chemicals and equipment, our steam cleaning will eliminate virtually all grime and bacteria within your restroom and toilets.
We strongly advise professional cleaning services to be arranged through CE Deep Cleaning NC quarterly, twice a year or annually to maintain the high standards our initial cleaning team will achieve.
CE Commercial Kitchen Steam Cleaning NC is serving North Carolina Triangle areas including:
Cary, Chapel Hill, Clayton, Dunn, Durham, Apex, Henderson, Louisburg, Norlina, Oxford, Pittsboro, Raleigh, Rocky Mount, Roxboro, Sanford, Selma, Siler City, Smithfield, Tarboro, Wake Forest, Wilson etc.
CE Kitchen Cleaning ℠ is servicemark operated by Calamus Enterprises Llc